All Rosehill products are manufactured at our state-of-the-art facilities in Yorkshire using unique polyurethane chemistry, tailor-made for the toughest environments.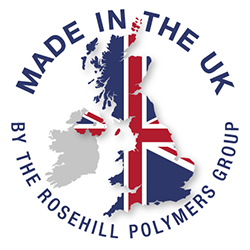 Approved by rail authorities worldwide, Rosehill Rail is the UK's only manufacturer of rail crossing systems, anti-trespass panels, and edge beams made from recycled rubber.
Market leading manufacturer of surface-mounted rubber highways products and traffic calming solutions, including speed cushions, traffic islands, and cycle lane delineators.
Leading global manufacturer of the unique Rosehill TPV® coloured rubber granules and Flexilon® range of polyurethane binders and adhesives.
Manufacturers of innovative ballistic products and perimeter security solutions designed to protect against hostile vehicle attacks and unauthorised access.
Industry-leading experts in the design and manufacture of products and raw materials for flow assurance and subsea applications.
Rosehill Renewables formulate and manufacture state-of-the-art raw materials for use in onshore and offshore renewable energy applications.